Tech Rider Live
The brothers do not bring any computers but lots of analogue equipment, instruments and cables.

The brothers need provided:

- 1 x Mixer Midas Venice 320, 240 or F32, F24 (for Teichmann brother's use only)
-> the mixer must be placed on their table with Master LR connected to the FOH.
- 1 x Solid desk, 1m height, 2x1m surface area.
- 2 x high quality monitors (no plastic wedges) - stereo projection.
- 15 german power plugs on the table (220-240v).
- 1 x Shure SM-58 microphone.
- 1 x Mic-stand.
- 4 x 3m XLR-cable.
- 1 x Multi-Fx Unit similar to Yamaha SPX or Lexicon MPX Series.
- Light: the brothers need static light pointing on their equipment minimum 2 Spots).
- drinks: 2 big bottles of still table water.

- for collaborative concerts or live remixes, the brothers need up to 4 return-channels from the FOH:

Instruments Mix - mono
Solo track - mono
2 x Backup (to decide on Spot) - mono

This channels need to be connected to their mixer. They will be muted on the mixer and just be used for sampling and processing.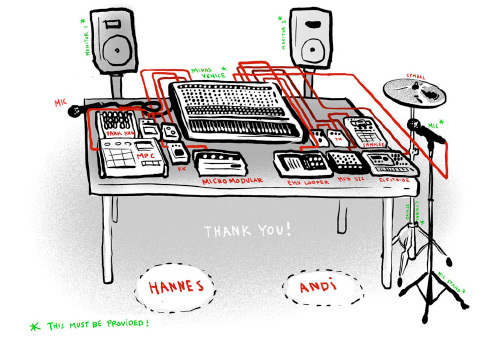 Tech Rider Dj:
- 1 x DJ-Mixer (high quality DJ-mixing desk, Allen&Heath X:one series or Pioneer DJM800 higher)
- 2 x turn tables Technics SL1200 or similar)
- 2 x CD Player (high quality pitchable CD player with USB Pioneer CDJ2000 or similar)
- 2 x extra set of high quality turntable needles
- 2 x high powered stereo monitor speakers